Volume 1
Volume 2
Volume 3
The material on this page is part of Chapter 10, which is shown in full as a preview on this site.
Chapter 10: Nucleic Acid Platform Technologies
Rando Oliver, Department of Biochemistry and Molecular Pharmacology, University of Massachusetts Medical School, Worcester, Massachusetts 01605
PERFORMING MICROARRAY EXPERIMENTS
Although the specific bound oligonucleotides and labeled probes and details of the analysis of microarray hybridizations differ depending on the experimental questions being asked, most microarray experiments involve six steps.
1.

Design a microarray.

2.

Print or purchase a microarray.

3.

Isolate and amplify the DNA or RNA probe material.

4.

Label the DNA or RNA with fluorescent groups.

5.

Hybridize the labeled probes to the microarray.

6.

Analyze the microarray hybridization results.
For the remainder of the chapter, we discuss each of these steps in turn. Protocols are provided for printing a microarray in-house (Protocol 1) and for amplifying DNA and RNA following isolation (Protocols 24). Several techniques for adding fluorescent moieties to the nucleic acids are provided (Protocols 58). Protocol 9 explains how to block the positive charges of the polylysines bound to homemade microarrays. Finally, there is a detailed generalized protocol for hybridization of labeled probes to a microarray, as well as scanning, formatting, and storing the microarray hybridization data (Protocol 10). A brief guide to microarray analysis is contained in Chapter 8.
Chapter 10 Protocols:
Save 30% & Get Free Shipping!*
Save 30% at checkout on our website.
(Limited time special offer.)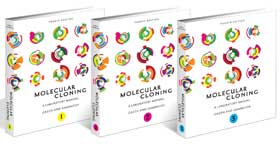 Search for information about other protocols included in the book:
Read What Others Are Saying About Molecular Cloning:
* Free shipping to individuals in U.S. and Canada only