Volume 1
Volume 2
Volume 3
Identifying Regions Enriched in a ChIP-seq Data Set (Peak Finding)
(Protocol summary only for purposes of this preview site)
This protocol demonstrates how to use MACS software to call peaks in a ChIP-seq data set. MACS is one of the most widely used peak-calling programs. The protocol describes how to run MACS in a UNIX environment and on Galaxy and how to extract the sequences of 50 bp around the summits of the 500 MACS peaks with the most significant p values.

Save 30% & Get Free Shipping!*
Save 30% at checkout on our website.
(Limited time special offer.)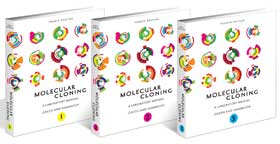 Search for information about other protocols included in the book:
Read What Others Are Saying About Molecular Cloning:
* Free shipping to individuals in U.S. and Canada only