Volume 1
Volume 2
Volume 3
Total RNA Extraction from Caenorhabditis elegans
(Protocol summary only for purposes of this preview site)
To extract RNA efficiently from C. elegans, it is necessary to first permeabilize or solubilize the eggshell of embryos or the cuticle of larvae and adult worms. This can be achieved by grinding the worms in liquid nitrogen and then rapidly dispersing the cellular material in a strong denaturing RNA isolation buffer (Johnstone 1999). An alternativeand more rapidmethod is to use a monophasic lysis reagent to extract RNA from intact worms without prior grinding in liquid nitrogen. This method is preferable when multiple samples have to be processed. It should be noted that although this method is effective for isolating RNA from larvae and adult worms, it does not appear to work adequately for isolating RNA from worm embryos (Johnstone 1999).

Save 30% & Get Free Shipping!*
Save 30% at checkout on our website.
(Limited time special offer.)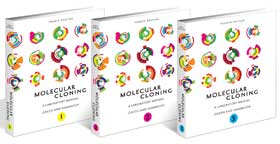 Search for information about other protocols included in the book:
Read What Others Are Saying About Molecular Cloning:
* Free shipping to individuals in U.S. and Canada only