Volume 1
Volume 2
Volume 3
Removing DNA Contamination from RNA Samples by Treatment with RNase-Free DNase I
(Protocol summary only for purposes of this preview site)
RNA samples prepared using monophasic lysis reagents may contain small amounts of contaminating genomic DNA, which must be removed if the RNA will be used in subsequent analyses such as RT-PCR (Chapter 7, Protocol 8) or quantitative real-time RT-PCR (Chapter 9, Protocol 4). In addition, the presence of contaminating DNA can render the quantitative determination of RNA in a sample inaccurate (see Protocol 6).

Save 30% & Get Free Shipping!*
Save 30% at checkout on our website.
(Limited time special offer.)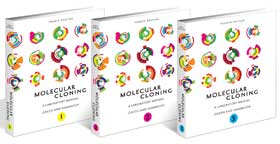 Search for information about other protocols included in the book:
Read What Others Are Saying About Molecular Cloning:
* Free shipping to individuals in U.S. and Canada only