Volume 1
Volume 2
Volume 3
PCR Detection of 3C Ligation Products Present in 3C, ChIP-loop, and Control Libraries: Library Titration and Interaction Frequency Analysis
(Protocol summary only for purposes of this preview site)
In all 3C-based assays, the aim is to measure the frequency with which two loci interact within cells. This is achieved by determining the relative abundance of ligation products formed during the 3C protocol that carry sequences from both loci.

Save 30% & Get Free Shipping!*
Save 30% at checkout on our website.
(Limited time special offer.)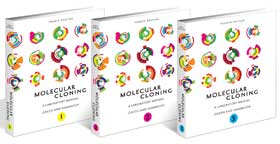 Search for information about other protocols included in the book:
Read What Others Are Saying About Molecular Cloning:
* Free shipping to individuals in U.S. and Canada only