Volume 1
Volume 2
Volume 3
Random Priming: Labeling of Purified DNA Fragments by Extension of Random Oligonucleotides
(Protocol summary only for purposes of this preview site)
Oligonucleotides can serve as primers for initiation of DNA synthesis on single-stranded templates by DNA polymerases (Goulian 1969). If the oligonucleotides are heterogeneous in sequence, they will form hybrids at many positions, so that the complement of every nucleotide of the template (except those at the extreme 5 terminus) will be incorporated at equal frequency into the product. These products of DNA synthesis can be radiolabeled by using one [-32P]dNTP and three unlabeled dNTPs as precursors, generating probes with specific activities of 5 108 to 5 109 dpm/g. This labeling method is also suitable for nonradioactive labeling using biotin-, DIG-, or fluorescein-labeled dUTP.

Save 30% & Get Free Shipping!*
Save 30% at checkout on our website.
(Limited time special offer.)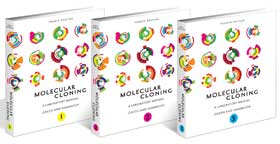 Search for information about other protocols included in the book:
Read What Others Are Saying About Molecular Cloning:
* Free shipping to individuals in U.S. and Canada only