Volume 1
Volume 2
Volume 3
Purification of the Recombinant Adenovirus by Cesium Chloride Gradient Centrifugation
(Protocol summary only for purposes of this preview site)
Cesium chloride gradient centrifugation is the most widely used method for purification of recombinant adenovirus. This protocol describes the entire process, from the preparation and clarification of crude viral lysate to the formulation and storage of purified virus.

Save 30% & Get Free Shipping!*
Save 30% at checkout on our website.
(Limited time special offer.)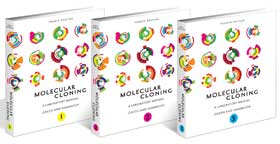 Search for information about other protocols included in the book:
Read What Others Are Saying About Molecular Cloning:
* Free shipping to individuals in U.S. and Canada only