Volume 1
Volume 2
Volume 3
Preparation of Double-Stranded (Replicative Form) Bacteriophage M13 DNA
(Protocol summary only for purposes of this preview site)
The double-stranded, closed-circular, replicative form (RF) of M13 DNA is present in high copy numbers in infected cells, and its physical characteristics are essentially identical to those of closed-circular plasmid DNAs. Any of the methods commonly used to purify plasmid DNAsilica gels (such as those sold by QIAGEN) and alkaline lysis (Ish-Horowicz and Burke 1981)can therefore be used to isolate M13 RF DNA.

Save 30% & Get Free Shipping!*
Save 30% at checkout on our website.
(Limited time special offer.)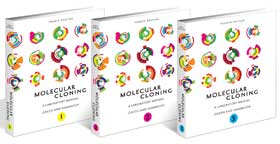 Search for information about other protocols included in the book:
Read What Others Are Saying About Molecular Cloning:
* Free shipping to individuals in U.S. and Canada only