Volume 1
Volume 2
Volume 3
Preparing PCR Products for Capillary Sequencing
(Protocol summary only for purposes of this preview site)
This protocol describes the preparation of amplified products for use in Sanger-based capillary DNA sequencing (see Protocol 3), for example, to verify a clone or construct. The approach is based on the use of the LongAmp protocol (see Chapter 7, Protocol 5) for DNA amplification and reagents for BigDye sequencing (Protocol 3).

Save 30% & Get Free Shipping!*
Save 30% at checkout on our website.
(Limited time special offer.)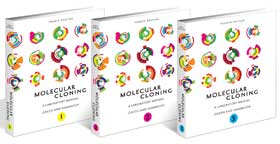 Search for information about other protocols included in the book:
Read What Others Are Saying About Molecular Cloning:
* Free shipping to individuals in U.S. and Canada only