Volume 1
Volume 2
Volume 3
Mapping RNA with Nuclease S1
(Protocol summary only for purposes of this preview site)
This protocol provides details for nuclease S1 mapping of mRNA using a uniformly labeled, single-stranded DNA probe. DNARNA hybrids are generated, which are subsequently digested with nuclease S1. The digestion products are separated using gel electrophoresis and analyzed by radiography. Tips on probe preparation and nuclease S1 analysis of mRNA can be found in the section Introduction to Mapping RNA Molecules (see Using Nucleases to Map RNA and Probes Used in Nuclease S1 Protection Assays) immediately preceding this protocol.

Save 30% & Get Free Shipping!*
Save 30% at checkout on our website.
(Limited time special offer.)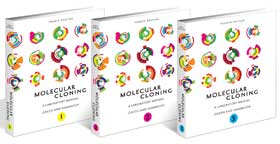 Search for information about other protocols included in the book:
Read What Others Are Saying About Molecular Cloning:
* Free shipping to individuals in U.S. and Canada only