Volume 1
Volume 2
Volume 3
Calcium-Phosphate-Mediated Transfection of Cells with High-Molecular-Weight Genomic DNA
(Protocol summary only for purposes of this preview site)
Mammalian genes have been successfully isolated by transfecting cultured mammalian cells with genomic DNA, followed by selection for the gene of interest. This includes dominant cellular oncogenes, genes that encode cell surface molecules, and, as selection/identification strategies and techniques have improved, genes that encode intracellular proteins. Target genes are recovered from the chromosomal DNA of stably transfected cells by virtue of their species-specific repetitive DNA elements or by linkage to cotransfected plasmid DNAs.

Save 30% & Get Free Shipping!*
Save 30% at checkout on our website.
(Limited time special offer.)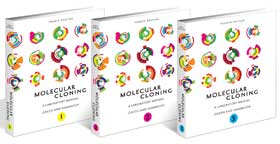 Search for information about other protocols included in the book:
Read What Others Are Saying About Molecular Cloning:
* Free shipping to individuals in U.S. and Canada only