Volume 1
Volume 2
Volume 3
Methods for Measuring the Concentrations of Proteins
(Protocol summary only for purposes of this preview site)
Determining the concentration of protein samples generally is accomplished either by measuring the UV absorbance at 280 nm or by reacting the protein quantitatively with dyes and/or metal ions (Bradford, Lowry, or BCA assays). For purified proteins, UV absorbance remains the most popular method because it is fast, convenient, and reproducible; it does not consume the protein; and it requires no additional reagents, standards, or incubations.

Save 30% & Get Free Shipping!*
Save 30% at checkout on our website.
(Limited time special offer.)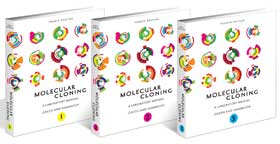 Search for information about other protocols included in the book:
Read What Others Are Saying About Molecular Cloning:
* Free shipping to individuals in U.S. and Canada only