Volume 1
Volume 2
Volume 3
Generation of Control Ligation Product Libraries
(Protocol summary only for purposes of this preview site)
Control libraries are used to determine differences in the efficiency of PCR primers in detecting 3C ligation products as well as any differences in the efficiency of amplification. As outlined above, control libraries are generated by random ligation of restriction fragments so that each ligation product is present in equimolar amounts. This protocol begins with preparations of genomic DNA or BAC DNA preparations. The restriction enzyme used here should be the same as the one used for generation of the 3C or ChIP-loop library (Protocols 7 and 8).

Save 30% & Get Free Shipping!*
Save 30% at checkout on our website.
(Limited time special offer.)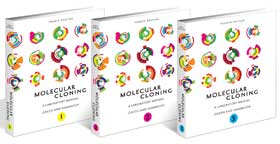 Search for information about other protocols included in the book:
Read What Others Are Saying About Molecular Cloning:
* Free shipping to individuals in U.S. and Canada only