Volume 1
Volume 2
Volume 3
Purification of rAAVs by Iodixanol Gradient Centrifugation
(Protocol summary only for purposes of this preview site)
This is a simple method for rapid preparation of rAAV stocks, which can be used for in vivo gene delivery. Infusion of these vectors into the brain appears to be well tolerated without significant side effects (Hermens et al. 1999). The purity of these vectors is considerably lower than that obtained by either CsCl gradient centrifugation or by combination of iodixanol gradient ultracentrifugation followed by column chromatography.

Save 30% & Get Free Shipping!*
Save 30% at checkout on our website.
(Limited time special offer.)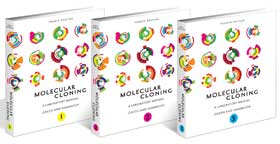 Search for information about other protocols included in the book:
Read What Others Are Saying About Molecular Cloning:
* Free shipping to individuals in U.S. and Canada only