Volume 1
Volume 2
Volume 3
Preparation of Antisense Oligonucleotides to Inhibit miRNA Function
(Protocol summary only for purposes of this preview site)
This protocol is used to design antisense oligonucleotides (ASOs) for specific inhibition of miRNA function in cultured cells. The incorporation of 2-O-methyl-modifications in ASOs enhances their potency and resistance to degradation, whereas 3-terminal cholesterol-conjugation facilitates delivery of ASOs into cells.

Save 30% & Get Free Shipping!*
Save 30% at checkout on our website.
(Limited time special offer.)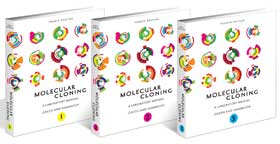 Search for information about other protocols included in the book:
Read What Others Are Saying About Molecular Cloning:
* Free shipping to individuals in U.S. and Canada only