Volume 1
Volume 2
Volume 3
Analysis of Cell Viability by the Lactate Dehydrogenase Assay
(Protocol summary only for purposes of this preview site)
A common method for determining cytotoxicity is based on measuring the activity of cytoplasmic enzymes released by damaged cells. Lactate dehydrogenase (LDH) is a stable cytoplasmic enzyme that is found in all cells. There are five different isoforms of lactate dehydrogenase present in different tissue types, and they differ in their quantity, specificity, and kinetics of enzyme action. But all of the different enzyme isoforms catalyze the common reaction of interconverting pyruvate to lactate accompanied by the oxidation of NADH to NAD (Fig. 1).

Save 30% & Get Free Shipping!*
Save 30% at checkout on our website.
(Limited time special offer.)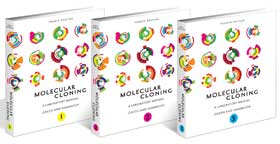 Search for information about other protocols included in the book:
Read What Others Are Saying About Molecular Cloning:
* Free shipping to individuals in U.S. and Canada only