Volume 1
Volume 2
Volume 3
Purification of Labeled Oligonucleotides by Chromatography on a Sep-Pak C18 Column
(Protocol summary only for purposes of this preview site)
This protocol, which is a modification of procedures described by Lo et al. (1984), Sanchez-Pescador and Urdea (1984), and Zoller and Smith (1984), describes a method for the separation of radiolabeled oligonucleotides from unincorporated radiolabel that takes advantage of the reversible affinity of oligonucleotides for silica gel. This protocol can be used only to purify oligonucleotides carrying a 5-phosphate group, radiolabeled or unlabeled. It should be noted that ready-to-use Sep-Pak C18 chromatography cartridges are commercially available (e.g., Science Kit, Waters Division of Millipore).

Save 30% & Get Free Shipping!*
Save 30% at checkout on our website.
(Limited time special offer.)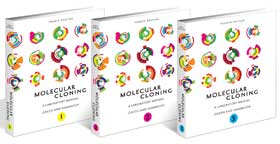 Search for information about other protocols included in the book:
Read What Others Are Saying About Molecular Cloning:
* Free shipping to individuals in U.S. and Canada only