Volume 1
Volume 2
Volume 3
Two-Step BAC Engineering: Preparation of Shuttle Vector DNA
(Protocol summary only for purposes of this preview site)
In the two-step approach, a single plasmid is introduced into the BAC-carrying cell lines (see Figs. 4 and 5 in the chapter introduction). The shuttle vector pLD53.SCAB (or pLD53.SCAEB) (see Fig. 5 in the chapter introduction) carries the recA gene as well as the R6K origin, which requires the protein to replicate. PIR2 cells, expressing , are typically used for the amplification of the vector and maintain about 15 copies/cell of the donor vector, which is relatively stable in this host.

Save 30% & Get Free Shipping!*
Save 30% at checkout on our website.
(Limited time special offer.)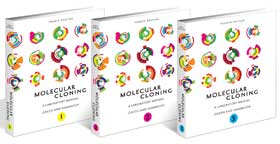 Search for information about other protocols included in the book:
Read What Others Are Saying About Molecular Cloning:
* Free shipping to individuals in U.S. and Canada only