Volume 1
Volume 2
Volume 3
Radiolabeling of Subtracted cDNA Probes by Random Oligonucleotide Extension
(Protocol summary only for purposes of this preview site)
In this procedure, synthesis of cDNA is performed in the presence of saturating concentrations of all four dNTPs and trace amounts of a single radiolabeled dNTP. After subtraction hybridization, the enriched single-stranded cDNA is radiolabeled to high specific activity in a second synthetic reaction by extension of random oligonucleotide primers using the Klenow fragment of E. coli DNA Pol I. Because the concentrations of dNTP in the first reaction are nonlimiting, both the amounts and size of cDNA generated are greater than those achieved in standard labeling protocols. The subtractive hybridization step can therefore be performed with higher efficiency. Because the resulting population of cDNA is not vulnerable to radiolytic cleavage, it can be stored indefinitely and radiolabeled to higher specific activity when needed.

Save 30% & Get Free Shipping!*
Save 30% at checkout on our website.
(Limited time special offer.)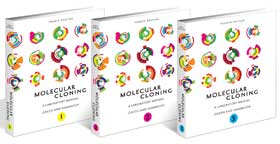 Search for information about other protocols included in the book:
Read What Others Are Saying About Molecular Cloning:
* Free shipping to individuals in U.S. and Canada only