Volume 1
Volume 2
Volume 3
Recovery of DNA from Low-Melting-Temperature Agarose Gels: Organic Extraction
(Protocol summary only for purposes of this preview site)
Agarose melts and sets at lower temperatures after modification by hydoxyethylation, which reduces the number of hydrogen bonds between the polysaccharide strands. The degree of substitution within the polysaccharide chain determines the exact melting and gelling temperature. These properties form the basis of techniques to recover and manipulate DNA fragments in gels (Wieslander 1979; Parker and Seed 1980). Many brands of low-melting-temperature agarose can be held as liquids in the 30C35C range, so that enzymatic reactions (restriction endonuclease digestion/ligation) can be performed at a reasonable temperature without the agarose solidifying. In addition to enzymatic reactions, low-melting/gelling-temperature agaroses may be used for rapid recovery of DNA from gels and for bacterial transformation with nucleic acids in the remelted gel.

Save 30% & Get Free Shipping!*
Save 30% at checkout on our website.
(Limited time special offer.)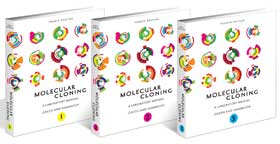 Search for information about other protocols included in the book:
Read What Others Are Saying About Molecular Cloning:
* Free shipping to individuals in U.S. and Canada only