Volume 1
Volume 2
Volume 3
Enrichment of Fully Packaged Virions in Column-Purified rAAV Preparations by Iodixanol Gradient Centrifugation Followed by Anion-Exchange Column Chromatography
(Protocol summary only for purposes of this preview site)
This rapid and efficient method to prepare highly purified rAAVs, first described by Zolotukhin et al. (2002), is based on binding of negatively charged rAAV capsids to an anion-exchange resin that is pH dependent. The isoelectric point (pI) of different rAAV capsids may be slightly different, and as such, the pH of Buffer A may need to be optimized for new serotypes (capsids) to ensure an overall negative charge and thus efficient binding to the anion-exchange resin. Because rAAV capsids are stable in a wide range of pH values, cation-exchange chromatography can also be used. In fact, tandem cation-anionexchange chromatography has been used for purification of rAAVs without an ultracentrifugation step (Debelak et al. 2000). However, it is important to understand that chromatographic methods are not suitable for complete elimination of empty capsids from rAAV vector preparations. The elution buffer composition can be optimized for the type of ion used and pH to maximize the separation of empty from full capsids (Qu et al. 2007). The conditions described here are effective for purification of rAAV1, 2, 5, rh8, and 8 vectors (Debelak et al. 2000; Gao et al. 2000; Zolotukhin et al. 2002; Qu et al. 2007).

Save 30% & Get Free Shipping!*
Save 30% at checkout on our website.
(Limited time special offer.)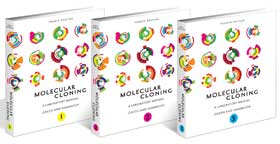 Search for information about other protocols included in the book:
Read What Others Are Saying About Molecular Cloning:
* Free shipping to individuals in U.S. and Canada only