Volume 1
Volume 2
Volume 3
Monitoring Lentivirus Vector Stocks for Replication-Competent Viruses
(Protocol summary only for purposes of this preview site)
The potential emergence of RCLs during vector production and the significant biosafety risk that this represents has led to the development of lentivirus vector production systems to minimize the risk of generating RCLs. Second- and third-generation lentivirus vector production systems appear to be safe, because there are no reports of RCL generation in either system. Screening of lentivirus vector stocks for RCLs involves serial passaging of transduced cells for 30 d with weekly monitoring of p24 levels in supernatants using an ELISA Kit.

Save 30% & Get Free Shipping!*
Save 30% at checkout on our website.
(Limited time special offer.)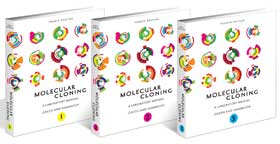 Search for information about other protocols included in the book:
Read What Others Are Saying About Molecular Cloning:
* Free shipping to individuals in U.S. and Canada only