Volume 1
Volume 2
Volume 3
ChIP-chip
(Protocol summary only for purposes of this preview site)
ChIP-chip can be used to analyze proteinDNA interactions in a region-wide and genome-wide manner. Identification of genomic sites that interact with the protein is based on competitive hybridization of the ChIP-enriched DNA and the input DNA to DNA microarrays. DNA microarrays contain PCR products or oligonucleotide probes that are designed to represent genomic sequences. The relative hybridization intensity of ChIP DNA and that of the input DNA is used to determine whether the probe sequence is a potential site of proteinDNA interaction. Resolution of actual genomic sites bound by the protein is dependent on the size of the chromatin and on the genomic distance between the probes on the array.

Save 30% & Get Free Shipping!*
Save 30% at checkout on our website.
(Limited time special offer.)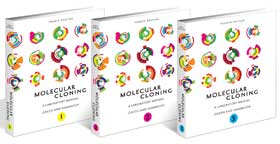 Search for information about other protocols included in the book:
Read What Others Are Saying About Molecular Cloning:
* Free shipping to individuals in U.S. and Canada only