Volume 1
Volume 2
Volume 3
3-Linker Ligation and Size Selection by SDS-PAGE
(Protocol summary only for purposes of this preview site)
In this protocol, coimmunoprecipitated RNA tags are treated with alkaline phosphatase to remove the 3 phosphate remaining after RNase digestion. Dephosphorylation prevents intramolecular circularization of RNA during subsequent ligation to the linker. An RNA linker, blocked with puromycin at its 3 end to prevent linkerlinker multimerization, is ligated to the 3 end of the RNA tag. Removal of free linker is accomplished by performing the ligation while the RNABP:RNA complex is associated, via antibody, to protein A Dynabeads, allowing thorough washing and linker removal. Additional purification is achieved by SDS-PAGE and transfer of the size-selected RNABP:RNA complexes to nitrocellulose.

Save 30% & Get Free Shipping!*
Save 30% at checkout on our website.
(Limited time special offer.)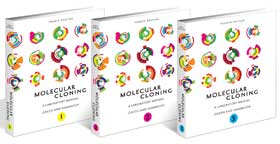 Search for information about other protocols included in the book:
Read What Others Are Saying About Molecular Cloning:
* Free shipping to individuals in U.S. and Canada only