Volume 1
Volume 2
Volume 3
Southern Blotting: Simultaneous Transfer of DNA from an Agarose Gel to Two Membranes
(Protocol summary only for purposes of this preview site)
DNA can be simultaneously transferred from the top and bottom surfaces of a single agarose gel to two membranes. This procedure is useful when the need arises to analyze the same set of restriction fragments with two different probes. Transfer of DNA fragments is rapid, but the efficiency is low because the agarose gel quickly becomes dehydrated as fluid is withdrawn from both sides. The method therefore works best when the target sequences are present in high concentration (e.g., when analyzing cloned DNAs [plasmids, bacteriophages, cosmids, PACs, or BACs] or less complex genomes [those of S. cerevisiae or Drosophila]). Too little mammalian genomic DNA is transferred to allow signals from single-copy sequences to be detected in a reproducible or timely fashion.

Save 30% & Get Free Shipping!*
Save 30% at checkout on our website.
(Limited time special offer.)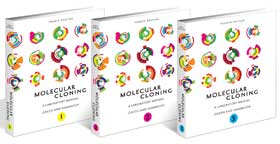 Search for information about other protocols included in the book:
Read What Others Are Saying About Molecular Cloning:
* Free shipping to individuals in U.S. and Canada only