Volume 1
Volume 2
Volume 3
Concentrating and Desalting Nucleic Acids with Microconcentrators
(Protocol summary only for purposes of this preview site)
Ultrafiltration through microconcentrators is a rapid (15 min) procedure for (1) simultaneous desalting and concentrating small volumes of solutions containing DNA (or RNA); (2) recovering nucleic acids from agarose gels; or (3) purifying the products of PCRs. A major supplier of microconcentrators is Millipore Inc. (http://www.millipore.com/), and the protocols given below have been optimized for use with their Millicon cartridges. A range of microconcentrators fitted with anisotropic, hydrophilic-generated cellulose membranes of varying porosities is available.

Save 30% & Get Free Shipping!*
Save 30% at checkout on our website.
(Limited time special offer.)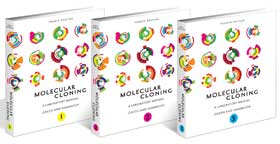 Search for information about other protocols included in the book:
Read What Others Are Saying About Molecular Cloning:
* Free shipping to individuals in U.S. and Canada only