Volume 1
Volume 2
Volume 3
Creating Insertions or Deletions Using Overlap Extension PCR Mutagenesis
(Protocol summary only for purposes of this preview site)
Overlap extension PCR mutagenesis can be used for the generation of a specific point mutation, insertion, or deletion within a particular DNA sequence of interest. Overlap extension PCR mutagenesis requires relatively little preparation compared with other mutagenesis methods and does not require the use of restriction enzymes. Because of its versatility, the method has become widely used. Unlike methods of random mutagenesis, directed mutagenesis requires that the researcher already have a specific mutation in mind to implement.

Save 30% & Get Free Shipping!*
Save 30% at checkout on our website.
(Limited time special offer.)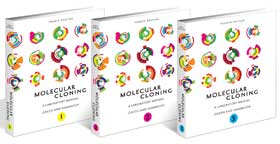 Search for information about other protocols included in the book:
Read What Others Are Saying About Molecular Cloning:
* Free shipping to individuals in U.S. and Canada only