Volume 1
Volume 2
Volume 3
Cycle-Sequencing Reactions
(Protocol summary only for purposes of this preview site)
Cycle sequencing is used for direct sequencing of clones to identify a mutation or structure of interest. Here the template is typically prepared from plasmid minipreps (described in Protocol 1). For sequencing reactions, amplicons, prepared as described in Protocol 2, are sequenced individually with each of the two primers used in the LongAmp amplification reactions. Both template preparations use primers designed specifically for targetseither for direct sequencing or for validation.

Save 30% & Get Free Shipping!*
Save 30% at checkout on our website.
(Limited time special offer.)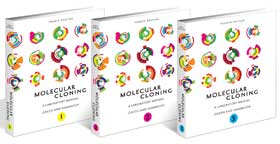 Search for information about other protocols included in the book:
Read What Others Are Saying About Molecular Cloning:
* Free shipping to individuals in U.S. and Canada only