Volume 1
Volume 2
Volume 3
One-Step BAC Modification: Preparation of Plasmids
(Protocol summary only for purposes of this preview site)
In the one-step approach, two plasmids are introduced into the BAC host cells (see Figs. 7 and 8 in the chapter introduction). The shuttle pLD53.SC2, carrying the EFGP reporter sequence and requiring the protein to replicate, must be grown in PIR1- or PIR2-competent E. coli. Our preference for these vectors is PIR1, because these cells are able to maintain about 250 copies of the donor vector. This small-sized vector is stable in PIR1. The RecA plasmid pSV1.RecA has a temperature-sensitive origin of replication and can be grown in most competent bacteria at 30C; here we use DH5 competent cells. This protocol describes preparation of the vector DNAs, analogous to that presented in Protocol 4 for preparation of the shuttle vector DNA by the two-step method. The shuttle-reporter vector DNA is subsequently digested for introduction of one homology arm (typically the A-box).

Save 30% & Get Free Shipping!*
Save 30% at checkout on our website.
(Limited time special offer.)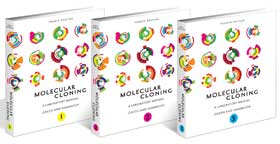 Search for information about other protocols included in the book:
Read What Others Are Saying About Molecular Cloning:
* Free shipping to individuals in U.S. and Canada only