Volume 1
Volume 2
Volume 3
Single Luciferase Reporter Assay
(Protocol summary only for purposes of this preview site)
This protocol is based on the Luciferase Assay System (Promega1) for analysis of firefly luciferase. Although the assay can be performed effectively with solutions prepared in the laboratory, the commercially available luciferase reporter vectors and assay kits provide excellent linear response over eight orders of magnitude with a sensitivity of detection of >1020 mol of luciferase under optimal conditions (Wood 1991). In general, a 100-fold greater sensitivity than the CAT assay is expected (Alam and Cook 1990). These kits include a cell lysis buffer, assay substrate, and assay buffer. The solutions are convenient to use, relatively inexpensive, and include proprietary modifications that yield stronger signals. For example, the kit described in the present protocol incorporates coenzyme A for improved kinetics (Wood 1991), allowing greater enzymatic turnover and resulting in increased light intensity that is nearly constant for at least 1 min.

Save 30% & Get Free Shipping!*
Save 30% at checkout on our website.
(Limited time special offer.)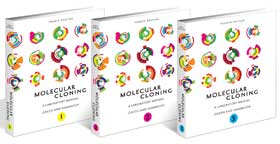 Search for information about other protocols included in the book:
Read What Others Are Saying About Molecular Cloning:
* Free shipping to individuals in U.S. and Canada only