Volume 1
Volume 2
Volume 3
Analysis of Proteins by Immunoblotting
(Protocol summary only for purposes of this preview site)
Immunoblotting (western blotting) is used to identify and confirm the size of macromolecular antigens (usually proteins) that react with a specific antibody (Towbin et al. 1979; Burnette 1981; for reviews, see Towbin and Gordon 1984; Gershoni 1988; Stott 1989; Nelson et al. 1990). Proteins are first separated by SDS-PAGE and then transferred electrophoretically from the gel onto a support membrane that binds proteins tightly. After the unreacted binding sites of the membrane are blocked to suppress nonspecific adsorption of antibodies, the immobilized proteins are reacted with a specific polyclonal or monoclonal antibody. Antigenantibody complexes are visualized using chromogenic, fluorescent, or chemiluminescent reactions.

Save 30% & Get Free Shipping!*
Save 30% at checkout on our website.
(Limited time special offer.)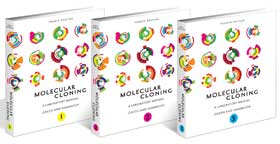 Search for information about other protocols included in the book:
Read What Others Are Saying About Molecular Cloning:
* Free shipping to individuals in U.S. and Canada only