Volume 1
Volume 2
Volume 3
Growth of S. cerevisiae and Preparation of DNA
(Protocol summary only for purposes of this preview site)
The following protocol describes methods for isolation of total DNA from a strain of S. cerevisiae carrying a recombinant YAC. This method is appropriate for preparing DNA that will be subjected to regular agarose gel electrophoresis, Southern blotting, subcloning, genomic library construction, PCR, or other methods that do not require intact high-molecular-weight DNA. If the DNA is used in PFGE, follow the method given in Protocol 3. The small-scale preparation of YAC DNA is presented in Protocol 16. Because the linear YAC DNAs are sensitive to shearing forces, pipettes with wide-bore tips should be used to transfer DNAs. Drop dialysis should be used to exchange buffers. The expected yield from a 10-mL culture is 24 g of yeast DNA.

Save 30% & Get Free Shipping!*
Save 30% at checkout on our website.
(Limited time special offer.)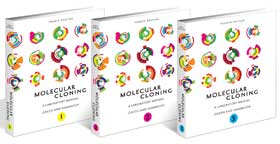 Search for information about other protocols included in the book:
Read What Others Are Saying About Molecular Cloning:
* Free shipping to individuals in U.S. and Canada only