Volume 1
Volume 2
Volume 3
Quality Assessment of Sequence Data
(Protocol summary only for purposes of this preview site)
Next-generation sequencing instruments produce massive amounts of sequence data. It is therefore critical to monitor the quality of each run to ensure that both the instrument and the sequencing chemistry are performing optimally. Quality assessment is quite similar across the major next-generation sequencing platforms. All platforms provide per base quality values that largely evaluate signal-to-noise ratios. In addition, basic read metrics such as read length, total yield, or platform-specific filtering are provided per run. Alignment of reads from standard libraries or control samples to known reference sequences can provide information on error rates and overall success. Real-time metrics are often provided on screen to highlight potential issues with the reagent or instrument performance as the sequencing progresses. The user's guide for each platform typically provides all of the details necessary to interpret metrics, troubleshoot problems, and maintain high quality. Often the true test of the data quality occurs in the postprocessing analysis steps that look at overall unique sample representation, adaptor contamination, GC bias, library insert size, read duplication, alignment quality, and base call confidence. We provide here examples of quality assessment specific to the Illumina platform.

Save 30% & Get Free Shipping!*
Save 30% at checkout on our website.
(Limited time special offer.)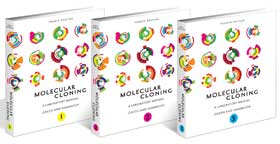 Search for information about other protocols included in the book:
Read What Others Are Saying About Molecular Cloning:
* Free shipping to individuals in U.S. and Canada only