Volume 1
Volume 2
Volume 3
Long and Accurate PCR (LA PCR)
(Protocol summary only for purposes of this preview site)
Standard PCR is easily capable of amplifying segments of DNA smaller than 3 kb in lengthsufficient for most purposes, but not enough to amplify an entire mammalian gene, nor even a cDNA of average dimensions. Instead of full-length products, standard PCR amplification of longer templates generates variously sized truncated molecules that appear as unattractive smears on a gel. Explanations to account for the failure of standard PCR to amplify long templates include:
damage to the template and product DNAs during exposure to high temperature in buffers that may not adequately maintain control over pH
the presence of stray divalent cations (Mn2 is always the prime suspect) that may promote cleavage of DNA at high temperature
difficulties in denaturing very long DNA molecules during the heating step of the PCR cycle
the high rate of incorporation of incorrect bases by thermostable polymerases such as Taq that lack an editing function (the incorporation of a mismatched base at the 3 end of a growing strand may cause the enzyme to stall and may limit the size of the PCR product)

Save 30% & Get Free Shipping!*
Save 30% at checkout on our website.
(Limited time special offer.)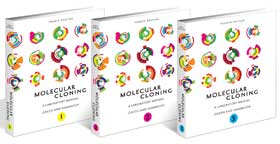 Search for information about other protocols included in the book:
Read What Others Are Saying About Molecular Cloning:
* Free shipping to individuals in U.S. and Canada only