Volume 1
Volume 2
Volume 3
SDS-PAGE of Proteins
(Protocol summary only for purposes of this preview site)
Most analytical electrophoreses of proteins are achieved by separation in polyacrylamide gels under conditions that ensure dissociation of proteins into individual polypeptide subunits and minimize aggregation. Most commonly, the anionic detergent sodium dodecyl sulfate (SDS) is used in combination with a reducing agent (-mercaptoethanol or dithiothreitol) and with heating to dissociate proteins before loading onto the gel. SDS binding denatures the polypeptides and imparts a negative charge that masks their intrinsic charge. The amount of SDS bound is generally sequence-independent and proportional to molecular weight; at saturation, approximately one SDS molecule is bound per two amino acids, or 1.4 g of SDS per gram of polypeptide. Therefore, the migration of SDSpolypeptide complexes in an electric field is proportional to the relative size of the polypeptide chain, and its molecular weight can be estimated by comparison to protein markers of known molecular weight. However, hydrophobicity, highly charged sequences, and certain posttranslational modifications such as glycosylation or phosphorylation may also influence migration (Weber et al. 1972). Thus, the apparent molecular weight of modified proteins does not always accurately reflect the mass of the polypeptide chain. These issues are covered in the Discussion section at the end of this protocol.

Save 30% & Get Free Shipping!*
Save 30% at checkout on our website.
(Limited time special offer.)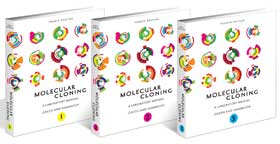 Search for information about other protocols included in the book:
Read What Others Are Saying About Molecular Cloning:
* Free shipping to individuals in U.S. and Canada only