Volume 1
Volume 2
Volume 3
Gel Purification and Storage of RNA Linkers
(Protocol summary only for purposes of this preview site)
After receiving RNA linkers from the manufacturer for use in the previous protocols, they must be purified by denaturing polyacrylamide gel electrophoresis and stored at 80C in single-use aliquots. If the 3 linker loses the puromycin blocking group, concatemerization of the 3 linker will occur during the 3 linker ligation reaction. In addition, truncated linkers make bioinformatic processing of the sequencing results more difficult than it need be. Gel purification can be accomplished by running 50 L of a 500 M stock of deprotected RNA linker on a 20 denaturing polyacrylamide gel as described in the following protocol.

Save 30% & Get Free Shipping!*
Save 30% at checkout on our website.
(Limited time special offer.)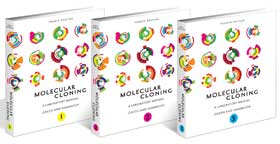 Search for information about other protocols included in the book:
Read What Others Are Saying About Molecular Cloning:
* Free shipping to individuals in U.S. and Canada only