Volume 1
Volume 2
Volume 3
Transfection Mediated by DEAE-Dextran: High-Efficiency Method
(Protocol summary only for purposes of this preview site)
Transfection mediated by DEAE-dextran differs from calcium phosphate coprecipitation in three important respects. First, it is used for transient expression of cloned genes and not for stable transformation of cells (Gluzman 1981). Second, it works very efficiently with lines of cells such as BSC-1, CV-1, and COS but is unsatisfactory with many other types of cells. Third, smaller amounts of DNA are used for transfection with DEAE-dextran than with calcium phosphate coprecipitation. Maximal transfection efficiency of 105 simian cells is achieved with 0.11.0 g of supercoiled plasmid DNA; larger amounts of DNA (>23 g) can be inhibitory. In contrast to transfection mediated by calcium phosphate, where high concentrations of DNA are required to promote the formation of a coprecipitate, carrier DNA is rarely used with the DEAE-dextran transfection method. For additional details on the procedure, see the information panel DEAE-Dextran Transfection.

Save 30% & Get Free Shipping!*
Save 30% at checkout on our website.
(Limited time special offer.)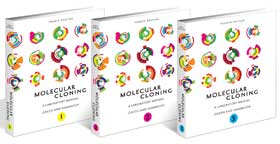 Search for information about other protocols included in the book:
Read What Others Are Saying About Molecular Cloning:
* Free shipping to individuals in U.S. and Canada only