Volume 1
Volume 2
Volume 3
Isolation of High-Molecular-Weight DNA from Mammalian Cells Using Proteinase K and Phenol
(Protocol summary only for purposes of this preview site)
This procedure is derived from a method originally described by Daryl Stafford and colleagues (Blin and Stafford 1976). It is the method of choice when large amounts of mammalian DNA are required, for example, for Southern blotting (see Chapter 2, Protocol 11). Approximately 200 g of mammalian DNA, 100150 kb in length, is obtained from 5107 cultured aneuploid cells (e.g., HeLa cells). The usual yield of DNA from buffy coat lymphocytes isolated from 20 mL of normal blood is 250 g.

Save 30% & Get Free Shipping!*
Save 30% at checkout on our website.
(Limited time special offer.)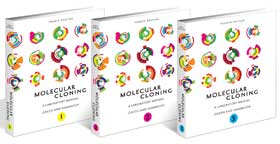 Search for information about other protocols included in the book:
Read What Others Are Saying About Molecular Cloning:
* Free shipping to individuals in U.S. and Canada only