Volume 1
Volume 2
Volume 3
Construction of Small RNA Libraries for High-Throughput Sequencing
(Protocol summary only for purposes of this preview site)
The combination of small RNA cloning and high-throughput sequencing is a cutting-edge and powerful technique for understanding small RNA profiles and for identifying novel small RNAs in cells or organisms. This protocol describes the method for cloning 1929-nucleotide small RNAs for Illumina Genome Analyzer high-throughput sequencing. Small RNAs are purified from total RNA samples from a polyacrylamide gel, followed by two sequential ligations: ligation of the 3 end of the small RNA to a 5-adenylated DNA linker and ligation of the 5 end of the small RNA to an RNA linker. After ligation, the small RNA cDNA library for high-throughput sequencing is prepared by reverse transcription and PCR. The flowchart in Figure 1 illustrates the steps involved in creating the library. Figure 2 shows the steps required to create the small RNA library.

Save 30% & Get Free Shipping!*
Save 30% at checkout on our website.
(Limited time special offer.)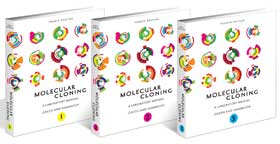 Search for information about other protocols included in the book:
Read What Others Are Saying About Molecular Cloning:
* Free shipping to individuals in U.S. and Canada only