Volume 1
Volume 2
Volume 3
Transfer of the Reporter Vector into BAC/RecA Cells and Selection of Cointegrates
(Protocol summary only for purposes of this preview site)
Recombination of the reporter vector with the BACleading to the modified BACis facilitated by the presence of RecA, and recombinants are selected for by growth in the presence of chloramphenical, ampicillin, and tetracycline. Only bacteria containing correctly modified BACs and copies of pSV1.RecA will be selected. Unmodified BACs (i.e., those lacking a pLD53.SC2/A-box insert) are eliminated by exposure to ampicillin. Free reporter plasmid remaining in the BAC host bacteria will also be eliminated, because this vector requires the protein to replicate. The cointegrates are selected by growth at high temperature, thereby eliminating the RecA plasmid. Successful modification of the BACformation of the cointegrateis confirmed in separate amplification reactions.

Save 30% & Get Free Shipping!*
Save 30% at checkout on our website.
(Limited time special offer.)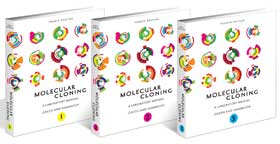 Search for information about other protocols included in the book:
Read What Others Are Saying About Molecular Cloning:
* Free shipping to individuals in U.S. and Canada only