Volume 1
Volume 2
Volume 3
High-Throughput Deep Sequencing for Mapping Mammalian DNA Methylation
(Protocol summary only for purposes of this preview site)
A challenge presented by genome-wide analysis of DNA methylation in mammals is striking the right balance between coverage of all relevant CpG dinucleotides and the need to keep the cost of analysis at reasonable levels. An additional challenge is to obtain information about the methylation status of repetitive DNA elements, which comprise a large proportion of the methylated residues in mammalian genomes. The methylation status of repetitive elements often has profound effects on the phenotype and is associated with several diseases, as well as with aging, genome instability, and cellular senescence (for review, see Belancio et al. 2009. The method described in this protocol, methylation mapping analysis by paired-end sequencing (Methyl-MAPS), was developed to address both of these challenges (Edwards et al. 2010). Paired-end refers to both how the library is made and how it is sequenced (see Chapter 11). In addition to the sequence information, paired-end sequencing provides information about the physical distance between the two reads in the genome. Methyl-MAPS typically samples 80 of the CpG dinucleotides in the genome and is also able to report the methylation status of individual genomic loci harboring repetitive elements. This is achieved by enzymatic fractionation of the genome into methylated and unmethylated compartments. Because the method avoids the use of bisulfite modification, DNA fragments of relatively large size are preserved, permitting the generation of paired-end libraries with DNA inserts of known size in the range of 0.81.5 kb, 1.53 kb, and 36 kb. The paired-end configurations can be uniquely mapped to the genome in most instances, because the paired reads will span most repetitive element sequences.

Save 30% & Get Free Shipping!*
Save 30% at checkout on our website.
(Limited time special offer.)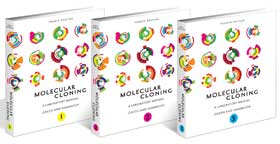 Search for information about other protocols included in the book:
Read What Others Are Saying About Molecular Cloning:
* Free shipping to individuals in U.S. and Canada only