Volume 1
Volume 2
Volume 3
Precipitation of DNA with Isopropanol
(Protocol summary only for purposes of this preview site)
DNA is less soluble in solutions containing isopropanol than in solutions containing ethanol. In contrast to precipitation with ethanol, which requires 23 volumes of alcohol, precipitation with isopropanol is performed with 0.60.7 volume of alcohol. Isopropanol is often the better choice when precipitating DNA from large volumes of solution. Precipitation with isopropanol is performed at room temperature to lessen the risk that solutes like sucrose or sodium chloride will be coprecipitated with the DNA. However, isopropanol also has some disadvantages.
Salts are less soluble in solutions consisting of 35 isopropanol than in solutions containing 65 ethanol.
The pellets of DNA are translucent and are difficult to see. Isopropanol is less volatile than ethanol and is therefore more difficult to remove.
Finally, DNA precipitated by isopropanol does not stick tightly to the wall of the microcentrifuge tube and is easily lost when the isopropanol solution is removed or when the pellet is washed with ethanol (Step 5, below).

Save 30% & Get Free Shipping!*
Save 30% at checkout on our website.
(Limited time special offer.)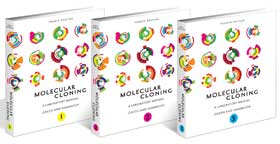 Search for information about other protocols included in the book:
Read What Others Are Saying About Molecular Cloning:
* Free shipping to individuals in U.S. and Canada only