Volume 1
Volume 2
Volume 3
Sensitive Determination of Infectious Titer of rAAVs Using TCID50 End-Point Dilution and qPCR
(Protocol summary only for purposes of this preview site)
AAV recombinants are currently the vector of choice for many gene therapy applications. As experimental therapies progress to clinical trials, the need to characterize rAAVs accurately and reproducibly increases. Accurate determination of rAAV infectious titer is important for determining the activity of each vector lot and for ensuring lot-to-lot consistency. Early assays to determine rAAV infectious titer, such as the infectious center assay (Salvetti et al. 1998) and a hybridization-based 96-well TCID50 assay (Atkinson et al. 1998), suffer from high background levels, subjective calling of infectious events, and low sensitivity.

Save 30% & Get Free Shipping!*
Save 30% at checkout on our website.
(Limited time special offer.)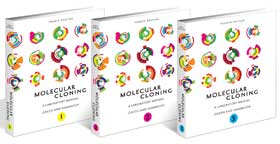 Search for information about other protocols included in the book:
Read What Others Are Saying About Molecular Cloning:
* Free shipping to individuals in U.S. and Canada only