Volume 1
Volume 2
Volume 3
Plating Bacteriophage M13
(Protocol summary only for purposes of this preview site)
A plaque of bacteriophage M13 derives from infection of a single bacterium by a single virus particle. The progeny particles infect neighboring bacteria, which, in turn, release another generation of daughter virus particles. If the bacteria are growing in semisolid medium (e.g., containing agar or agarose), then the diffusion of the progeny particles is limited. Cells infected with bacteriophage M13 are not killed, but have a longer generation time than uninfected E. coli. In consequence, plaques appear as areas of slower-growing cells on a faster-growing lawn of bacterial cells. In contrast to the clear plaques of lytic viruses such as the T bacteriophages, bacteriophage M13 plaques are turbid and sometimes indistinct. Very clear plaques appearing on M13 plates are most likely to be small air bubbles trapped in the soft agar during mixing before plating or, less likely, a contaminating lytic virus.

Save 30% & Get Free Shipping!*
Save 30% at checkout on our website.
(Limited time special offer.)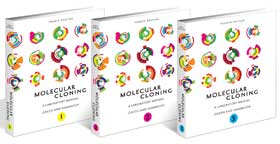 Search for information about other protocols included in the book:
Read What Others Are Saying About Molecular Cloning:
* Free shipping to individuals in U.S. and Canada only