Volume 1
Volume 2
Volume 3
Preparation of Genomic DNA from Mouse Tails and Other Small Samples
(Protocol summary only for purposes of this preview site)
Over the years, many protocols for the isolation of DNA from mouse tails have been published, almost all of them descendants of the original method developed by Richard Palmiter and Ralph Brinster in 1985 (Palmiter et al. 1985). Palmiter's laboratory was in Seattle, whereas Brinster and his thousands of mice were 3000 miles away in Philadelphia. Brinster would snip fragments of tails from the mice, place them in a solution of SDS and proteinase K, and, in those pre-FedEx days, would ship them to Palmiter by U.S. Mail. After their 23-d journey at ambient temperature, the samples were extracted with phenol:chloroform, and the genomic DNA was recovered by precipitation with ethanol. Success with this method fortunately does not require entrusting semidigested mouse parts to the care of the U.S. postal system. Instead, the digestions can be more conveniently performed overnight at 55C, without transportation. Each tail snippet generates 50100 g of DNA that can be used in dot or slot blotting to detect a transgene of interest, in Southern hybridization to detect DNA fragments that are <20 kb in size, and, more expediently, as a template in PCRs. This simple protocol continues to be used in hundreds of laboratories for genotyping transgenic and knockout mice and for extracting DNA from small numbers of cultured cells or from fragments of tissue.

Save 30% & Get Free Shipping!*
Save 30% at checkout on our website.
(Limited time special offer.)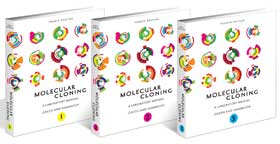 Search for information about other protocols included in the book:
Read What Others Are Saying About Molecular Cloning:
* Free shipping to individuals in U.S. and Canada only