Volume 1
Volume 2
Volume 3
ChIP-seq
(Protocol summary only for purposes of this preview site)
An alternative to the microarray-based detection methods is direct sequencing of the ChIP-enriched DNA (ChIP-seq). In the ChIP-seq protocol, the ChIP DNA is analyzed using next-generation sequencing platforms (notably the Illumina Genome Analyzer; see Chapter 11). Millions of short sequence reads are obtained from direct sequencing of the ChIP DNA, and the densities of recovered ChIP sequence reads along the genome are used to determine the binding sites of the protein. Although a much smaller amount of ChIP DNA is required for ChIP-seq, the current sequencing platforms still require amplification of the ChIP DNA by ligation-mediated PCR. Owing to its digital nature, ChIP-seq has become the standard method for genome-wide ChIP analysis.

Save 30% & Get Free Shipping!*
Save 30% at checkout on our website.
(Limited time special offer.)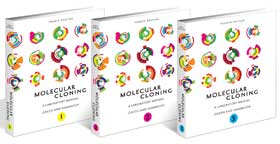 Search for information about other protocols included in the book:
Read What Others Are Saying About Molecular Cloning:
* Free shipping to individuals in U.S. and Canada only