Volume 1
Volume 2
Volume 3
Identifying Interactors from an Activation Domain Prey Library
(Protocol summary only for purposes of this preview site)
In yeast hybrid assays, it is necessary to introduce the AD-prey into the cells that contain the bait. This can be achieved in two ways. The first is by mating two haploid strains of yeast of opposite mating types where one mating strain contains the AD-prey plasmid and the other mating strain contains the bait. The second method is by transforming the AD-prey plasmid directly into the haploid strain that has the bait. We use haploid transformation for screening libraries, but either can be used for array-based methods (Vermeirssen et al. 2007b). For high-throughput large-scale experiments, mating experiments may be cost-effective because they do not require the repeated preparation of AD-prey clones. However, fewer interactors that induce moderate-to-weak yeast phenotypes are detected when the prey and bait are brought together by mating (Vermeirssen et al. 2007b). This appears to be more of a problem for Y1H assays than Y2H assays. Such sensitivity issues may be solved by changing vectors or strain, but (especially for larger, genome-scale projects) the reduction in sensitivity may be worth the reduction in costs.

Save 30% & Get Free Shipping!*
Save 30% at checkout on our website.
(Limited time special offer.)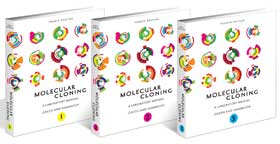 Search for information about other protocols included in the book:
Read What Others Are Saying About Molecular Cloning:
* Free shipping to individuals in U.S. and Canada only