Volume 1
Volume 2
Volume 3
Construction of Recombinant Adenovirus Genomes by Direct Cloning
(Protocol summary only for purposes of this preview site)
This protocol describes how to generate an infectious adenovirus vector by direct ligation and cloning. This is the first step in the production of a recombinant adenovirus vector. The protocol begins with a convenient and efficient double-selection procedure based on antibiotic resistance and identification of GFP-negative bacterial colonies (Fig. 6 in the chapter introduction). In this protocol, the prokaryotic expression cassette for GFP in the shuttle plasmid pSh-pkGFP is replaced with the transgene. The resulting pShuttletransgene plasmid is then used to clone the transgene expression cassette into pAd-pkGFP, using the same double-selection procedure (Fig. 6 in the chapter introduction).

Save 30% & Get Free Shipping!*
Save 30% at checkout on our website.
(Limited time special offer.)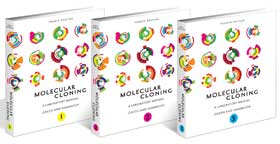 Search for information about other protocols included in the book:
Read What Others Are Saying About Molecular Cloning:
* Free shipping to individuals in U.S. and Canada only