Volume 1
Volume 2
Volume 3
Titration of Lentivirus Vectors
(Protocol summary only for purposes of this preview site)
The titer of a lentivirus vector is often expressed in transducing units per milliliter. This is a functional titer that reflects the lentivirus' ability to transduce a particular cell line under specific conditions. Transduction of other cell lines is likely to be different and will require optimization. The vast majority of lentivirus vectors are produced with the VSV-G envelope protein, which is compatible with most commonly used cell lines, such as 293, 293T, HT-1080, and HeLa cells. In addition to VSV-G, lentivirus vectors have been pseudotyped (carrying an envelope protein other than the native HIV-1 envelope) with a variety of envelope proteins derived from other viruses, which equips the resulting lentivirus pseudotypes with an ability to transduce particular sets of target cells (Cockrell and Kafri 2007). However, titration of some of these vectors by transduction of reference cell lines can result in inaccurately low titers because the cell-surface receptors for the particular envelope protein may be expressed at only low levels or not at all. In this case, the titer can be calculated by measuring the level of p24 using an enzyme-linked immunosorbent assay (ELISA). However, it is important to bear in mind that this is not a functional titer.

Save 30% & Get Free Shipping!*
Save 30% at checkout on our website.
(Limited time special offer.)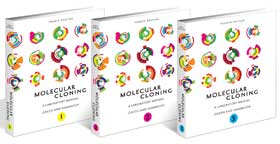 Search for information about other protocols included in the book:
Read What Others Are Saying About Molecular Cloning:
* Free shipping to individuals in U.S. and Canada only