Volume 1
Volume 2
Volume 3
Polyacrylamide Gel Electrophoresis
(Protocol summary only for purposes of this preview site)
Cross-linked chains of polyacrylamide, introduced as matrices for electrophoresis by Raymond and Weintraub (1959), are used as electrically neutral gels to separate double-stranded DNA fragments according to size and single-stranded DNAs according to size and conformation. Polyacrylamide gels have the following three major advantages over agarose gels: (1) Their resolving power is so great that they can separate molecules of DNA whose lengths differ by as little as 0.1 (i.e., 1 bp in 1000 bp). (2) They can accommodate much larger quantities of DNA than agarose gels. Up to 10 g of DNA can be applied to a single slot (1 cm 1 mm) of a typical polyacrylamide gel without significant loss of resolution. (3) DNA recovered from polyacrylamide gels is extremely pure and can be used for the most demanding purposes (e.g., microinjection of mouse embryos).
Nondenaturing polyacrylamide gels are used for the separation and purification of fragments of double-stranded DNA. As a general rule, double-stranded DNAs migrate through nondenaturing polyacrylamide gels at rates that are inversely proportional to the log10 of their size. However, electrophoretic mobility is also affected by their base composition and sequence, so that duplex DNAs of exactly the same size can differ in mobility by up to 10.
Denaturing polyacrylamide gels are used for the separation and purification of single-stranded fragments of DNA. These gels are polymerized in the presence of an agent (urea and/or, less frequently, formamide) that suppresses base-pairing in nucleic acids. Denatured DNA migrates through these gels at a rate that is almost completely independent of its base composition and sequence.

Save 30% & Get Free Shipping!*
Save 30% at checkout on our website.
(Limited time special offer.)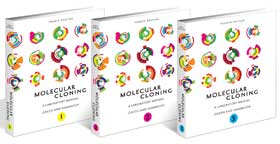 Search for information about other protocols included in the book:
Read What Others Are Saying About Molecular Cloning:
* Free shipping to individuals in U.S. and Canada only